Home is where the heart is, and right now, it's where you are the safest. We want you to make the most of your at-home lifestyle because it can truly be a beautiful thing! It may just take a little work to make the heart of your home summer-ready, and create a space that leaves you feeling inspired and stress-free.
That's where we come in. Whether you're looking for inspiration on a full-scale reno to get the most out of #Staycation season, or you're wanting a change of scenery without a lot of costs associated, we've compiled a great list of inspiration to help you get the most out of your kitchen this summer, and for many seasons to come.
So, you're ready to design your new custom kitchen and you want the good vibrations of the summer season all year long? Great! Be sure to include…
Glass Enclosures: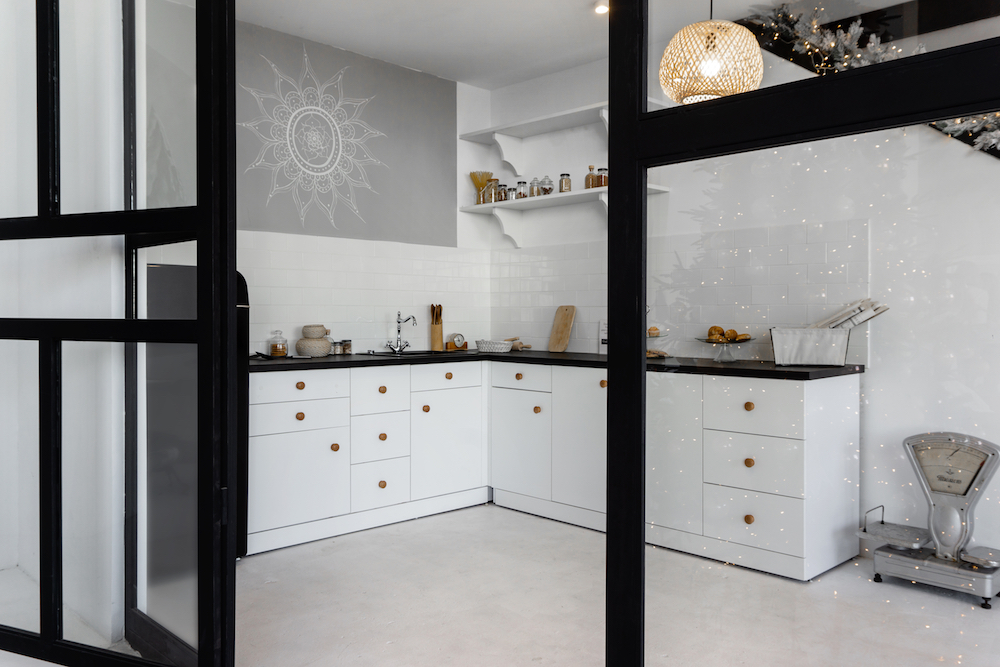 Brought back into the limelight by the pandemic and the need for a little more privacy, this great feature gives you the illusion of privacy without completely shutting off your kitchen to the rest of your home. With even just one enclosure, like in this example above, you have the option of blocking the world out and cooking or enjoying that morning coffee in peace. You can either take an existing wall and add an interior window or door for more light and flow, or you can build a wall for more privacy and then add the new enclosure. The choice and the privacy level are up to you! No matter what you choose, the architectural flow will be amazing.
Dark Stone Countertops with Medium Toned Cabinets: Of course, it's your space and your selections are completely up to you and your personal taste. However, the combination of Dark Countertops with Medium Toned Cabinets adds warmth, depth and dimension to the space. So much of the feeling of summer is being open and free, why not carry that through to your kitchen as well?
A Single Material Stove Backsplash (Try Vertically!):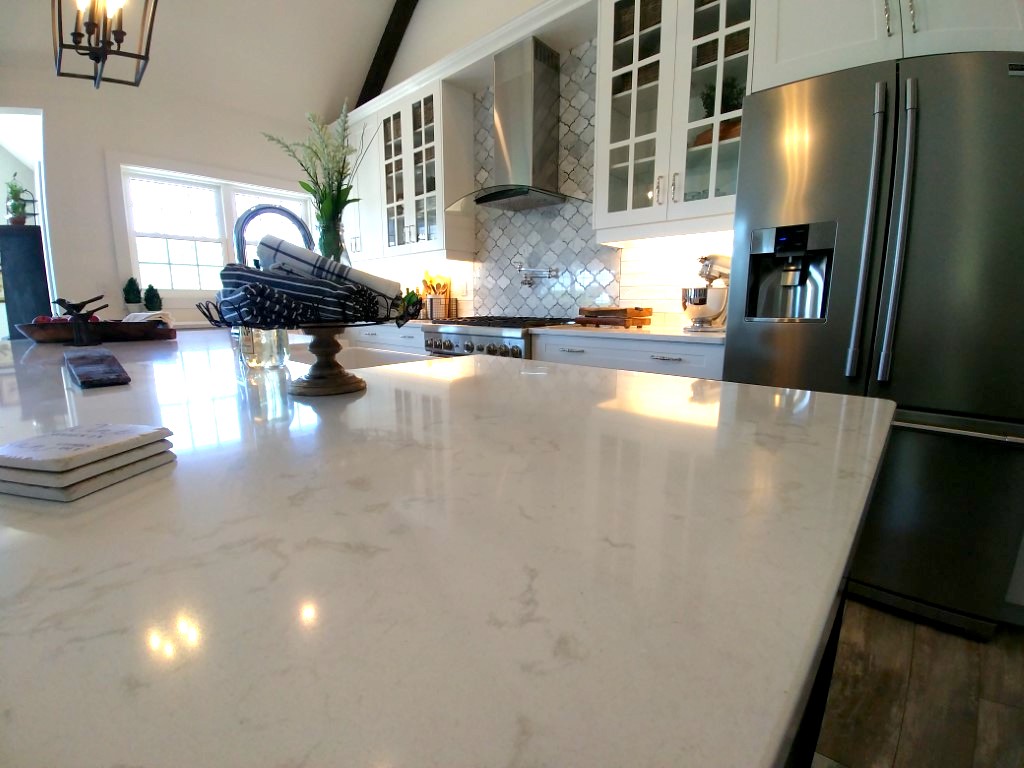 This is something non-conventional but extremely sharp to consider in the space and again, it adds more depth. It will give your space that perfect amount of "pop!" as well. The vertical single material stove backsplash is a trend in 2021 and for good reason. It's eye-catching, simple and very cost-effective since you aren't trying to cover an entire wall and you can use metals or tile. 
Streamlined Designs, Materials and Textures: When you think of a vacation (Staycation), what's the number one thing you're after? LESS STRESS! Simplicity is paramount in creating a stress-free environment to come home to. While mid-century modern designs are still lovely and a popular choice, it may not be the best one for a busy person looking to destress from daily life. For the overall aesthetic, think of subdued palettes, tile, clean, modern lines and alternative materials for kitchens. 
Connecting With The Great Outdoors: Bring a taste of nature inside. Many homeowners are connecting the kitchen to an outdoor space, like a patio, or entry points from the kitchen to outside entertainment areas. Installing a glass door to your kitchen is a great way to easily connect these two spaces in your home. Another idea is to let as much natural light and atmosphere in as possible by installing 5-6 foot wide windows at your kitchen sink.
The biggest takeaway from this when you're planning out your new custom kitchen: Design with summer in mind.
Not ready for that reno? No problem. These simple additions to your kitchen can completely light up your existing space and bring the staycation inside in the meantime…
Indoor herb garden: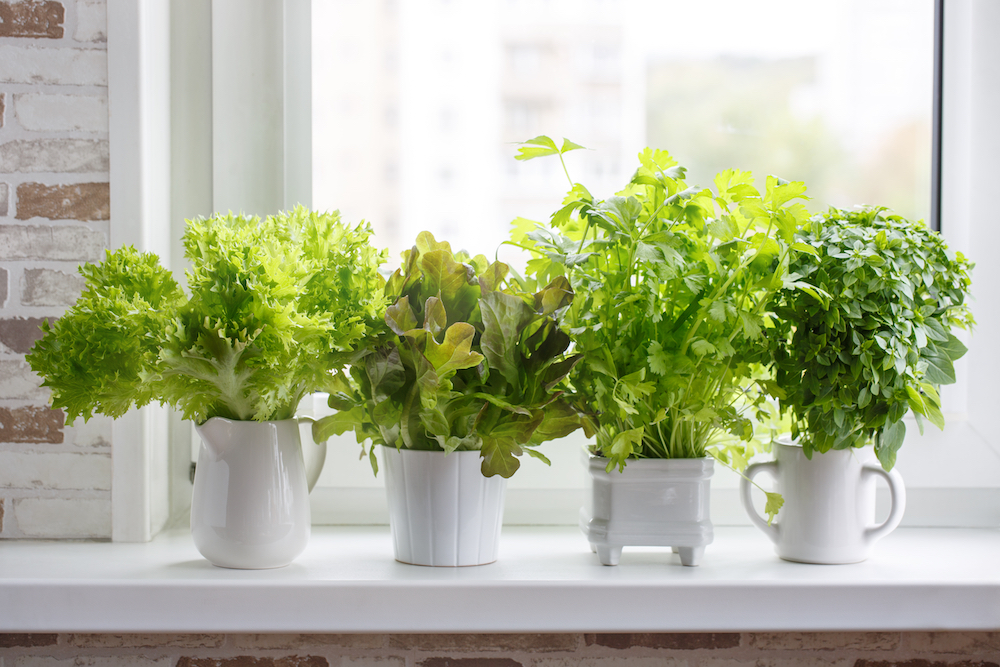 There's nothing like nurturing and watching something grow. If you want to get a headstart on gardening or don't have a spot to grow plants outdoors, creating an indoor herb garden is a great option. They look great; the greenery adds new life to the kitchen design, AND you will impress your friends and family with all of your new "secret" ingredients for food and drink.
Make the most of floral arrangements: this may seem like a no-brainer but it's an important one that we thought we should mention. Clear up some space on your countertops or windowsills, and add some seasonal flowers for a summery feel.  We promise the bright, cheery colours will add an undeniable feel of summer to any kitchen design.
Clean your windows: and let all the natural beauty of the outside world in. Plan to clean the windows on a cloudy day so that the cleaner doesn't dry before you have a chance to wipe it up, which leaves streaks. 
Rotate your gadgets: which appliances and items do you use more in the summertime? Be sure to bring things like your blender, ice cream scoops and bowls, and glass pitchers to the forefront during this season. Your crockpot can go to the back of the cupboard for now. 
Swap glass for plastic: plastic dishes and cups come in a selection of fun designs and colours, perfect for the summer season. Easy to clean and less easy to break, they're perfect for food being transported in and out of the house.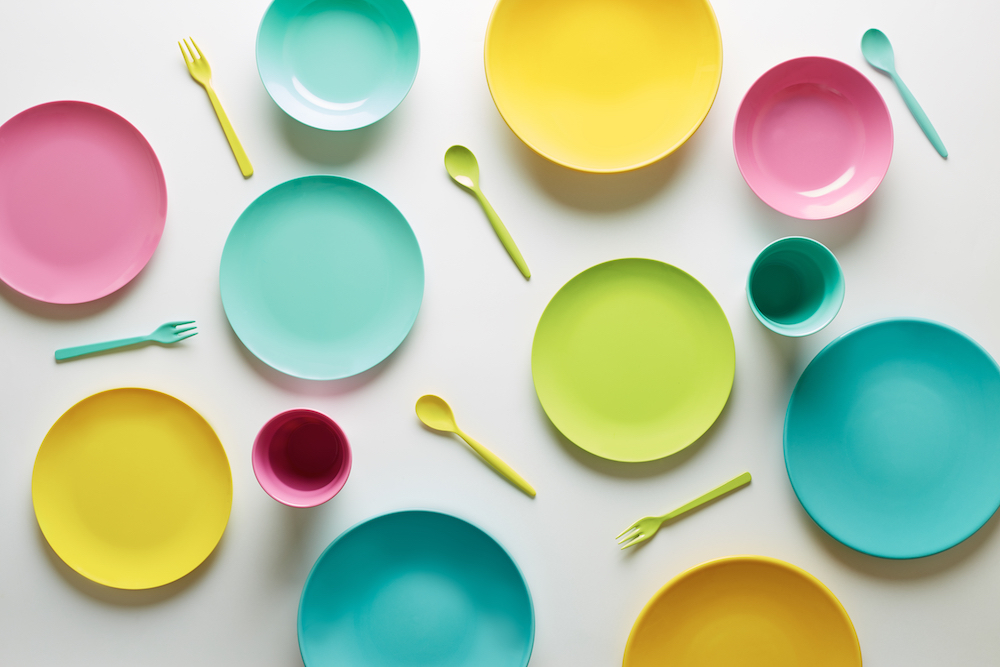 If you're ready to make your kitchen a relaxing, stress-free part of your Staycation spot this year, simply get in touch! We'd be happy to provide you with more information on creating the custom kitchen you've always wanted, and NOW is the best time to start. See you soon!