It's June! If the glorious weather and sunshine has you feeling energized and inspired, you're not alone. Summer is a time where many people get a burst of energy and start planning their next big project! When it comes to kitchens, we wanted to shift our focus this month to a very important area: colour selection. In a kitchen, colour is everything. This is because the right colour scheme brings unity, structure and, where needed, vibrancy to the area, affecting the entire mood. The nicer the colours, the more inspiring of an area it is to cook, eat and mingle!
Are you ready to begin? Here are some great recommendations from our custom kitchen experts on how to select the right colours from the comfort of your home! Whether you're completely recreating your kitchen or you're just in the market for a fresh coat of paint, these tips will make a big difference.
1. Start with your cabinets!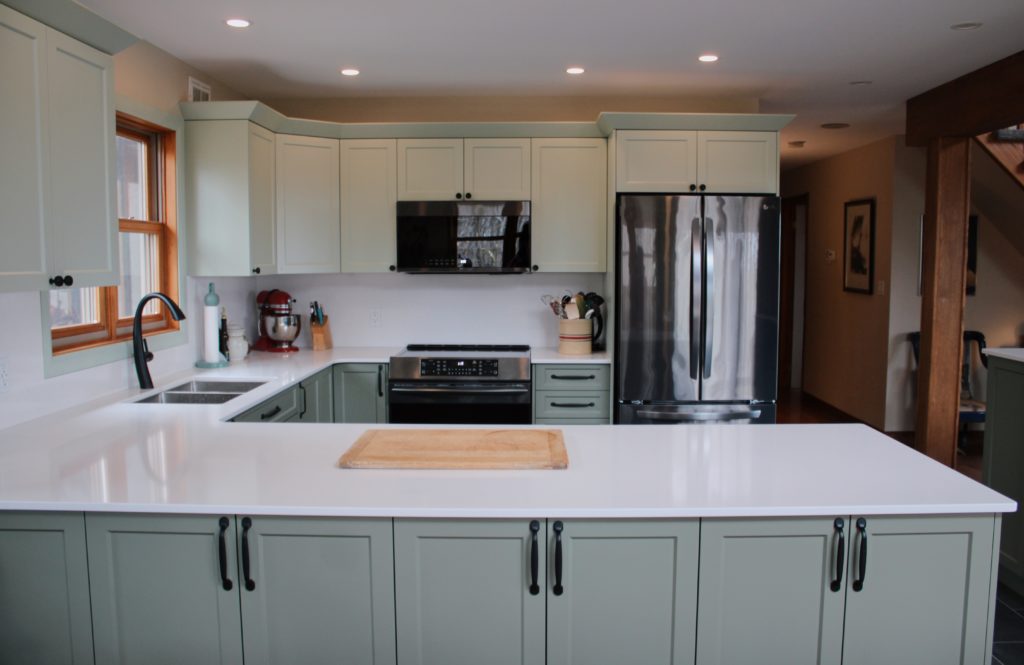 There's a good reason we emphasize cabinets: they take up almost half of the visual space in your kitchen. Due to this, they are the base for all future colour choices. The task can seem daunting, but our advice is to not overthink it. Just start by choosing tones and materials that speak to you. The rest will fall into place!
2. Visualize how your appliance colours match your selections.
This step can make a huge difference in unifying the space. If you already have appliances, it makes more sense for this to be step number 1. The key is understanding how the front of your fridge, dishwasher and sink work with your cabinet colour scheme. 
3. Carefully select your countertops.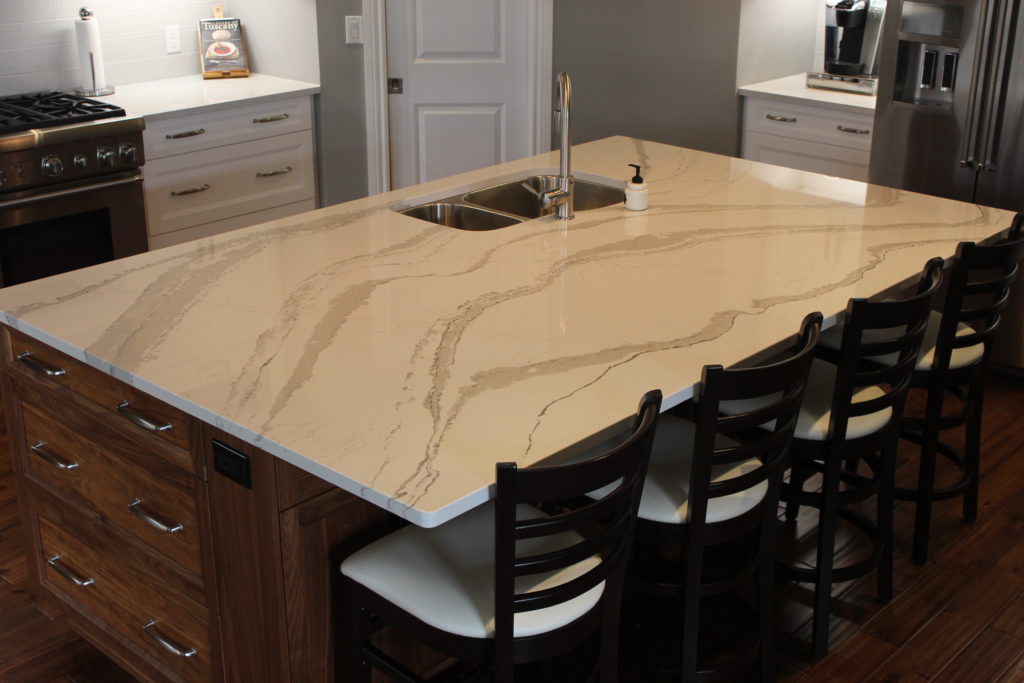 This is a very important part of the process. Countertops take up a large amount of visual space in your kitchen, so there must be cohesion between your countertops and cabinets, or else things will just look "off." The easiest way is to make sure the countertops match, or at least compliment the rest of the kitchen finishes. Look for patterns that pull in hints of colours and tones from your cabinets and flooring choice.
4. Choose or assess your flooring.
This could be a perfect opportunity to upgrade your kitchen floor. Choosing a material that is both aesthetically pleasing and functional is very important in a high-traffic space like the kitchen. Hardwood, luxury vinyl and tile are all top choices due to their durability and how easy they are to clean. When it comes to hues/tones, it's all about balance. Kitchens with timeless white cabinets with a warm coloured floor is a classic example. That allows some flexibility with the countertop, whether you keep it bright white or opt for a darker coloured stone.
5. Finally: Choose your wall colours.
Explore what the different, vibrant Benjamin Moore tones look like in your space by uploading your own photo! Or, see what's possible with one of the sample photos they provide.
Sherwin-Williams also provides a great tool for test-driving your paint colours and making sure it's the right selection!
At Hawthorne Kitchens, our team of designers use a program that allows us to show you your new space in colour through 3D colour renderings. We think it's the perfect tool to help clients visualize and select that perfect colour!
6. Lastly: Choose your hardware.
Lighting fixtures, taps and door/drawer handles are the final step, but can really make your space shine with a finish that compliments the space. The easiest way to choose: just stick to hardware with tones that can be found in other places throughout your kitchen. We often suggest that clients pick their faucets first, and choose hardware in the same finish. This is another small detail that helps the overall kitchen space feel cohesive once it's all complete.
---

The tools listed above are extremely useful, however they are no substitute for the valuable advice a kitchen designer can provide for you. If you're ready to start your colour revamp but still aren't completely sure what the right direction is, please contact the team at Hawthorne Kitchens Kingston and book an appointment to visit our showroom! We would be more than happy to consult with you over colour choices and make sure you're picking the right colours for a truly refreshing and wonderful space.
If you're looking for more inspiration to prepare, please visit our Pinterest Board and our previous blogs – they are packed with lots of great colour ideas!
Have a wonderful June,
– Hawthorne Kitchens Kingston.