A new year equals new possibilities. Sometimes, it just takes a new perspective and a change of scenery to make a world of difference in your life. That could start with the kitchen renovation you've always wanted but have been putting off until the "right" time. Could the right time be now? Perhaps knowing a little more about our streamlined, detailed and easy-to-follow process will answer that question for you. If you're pondering a new custom kitchen, we're here to get you started off on the right foot and go into this process ambitious and informed!
Keep reading to learn more about the process, and discover what's achievable for you in 2022.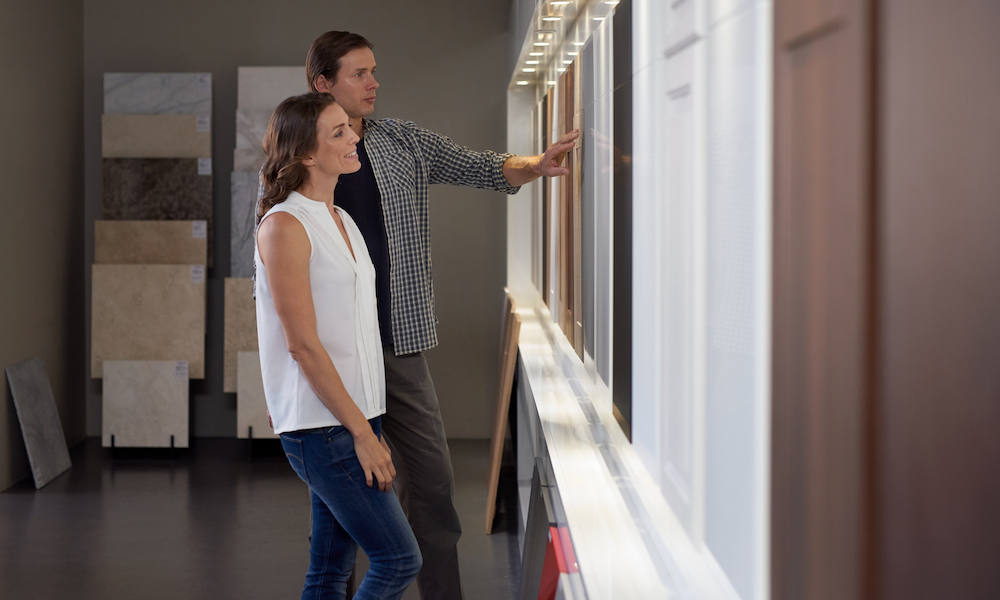 This step-by-step list will guide you through each stage in the design process and show you what you can expect. Take a moment and verse yourself on these stages!
Plan: Take the time to gather inspirational photos, must-have ideas, assess your storage needs, think about your budget, and pick out appliances. Educate yourself on various products available, and get a feel for what 'your kitchen' should feel like. Take measurements or get a copy of your design blueprint, if possible. Take a look at our "how to measure your kitchen" guide in the FAQ to help you get started. We'll help you from here. This can all be done at your own speed.
Design: Let one Hawthorne Kitchens' designers guide you through the entire process, from beginning to end, and within your budget. This phase can take anywhere from 3 days to 4 weeks depending on the complexity of the project, your wish list, and how much 'homework' you have done.
Build: With a Hawthorne Kitchen, you get a beautiful design for your space and bespoke cabinetry, created for you by our skilled craftsmen. This phase typically takes 6 weeks.
Install: A stunning, well-planned kitchen is best realized with proper installation by our skilled installation experts at Hawthorne Kitchens. The cabinet installation phase typically takes up to one week.
Enjoy: We make a commitment to each and every customer to provide exceptional service from beginning to end. Each job will be handled with the utmost attention, from inception to completion. Once your project is complete, you can start to enjoy, entertain, and enliven your home with your new Hawthorne Kitchen.
Things to keep in mind…. Try to determine the budget for your project. Make a list of changes you would like to see in your renovated space. Carefully consider which appliances you're keeping and which ones you will be replacing. Visit our showroom and explore magazines or websites for inspiration and to determine your design style.
The next step is to either arrange a site measure with one of our designers, or to provide a measured drawing or sketch from which our designers can create your new layout. Not sure how or what to measure? Take a look at our measuring guide linked below, for assistance. Our designers will ask you many questions, as well, to ensure that we stay within your budget and to attain the design esthetic you desire.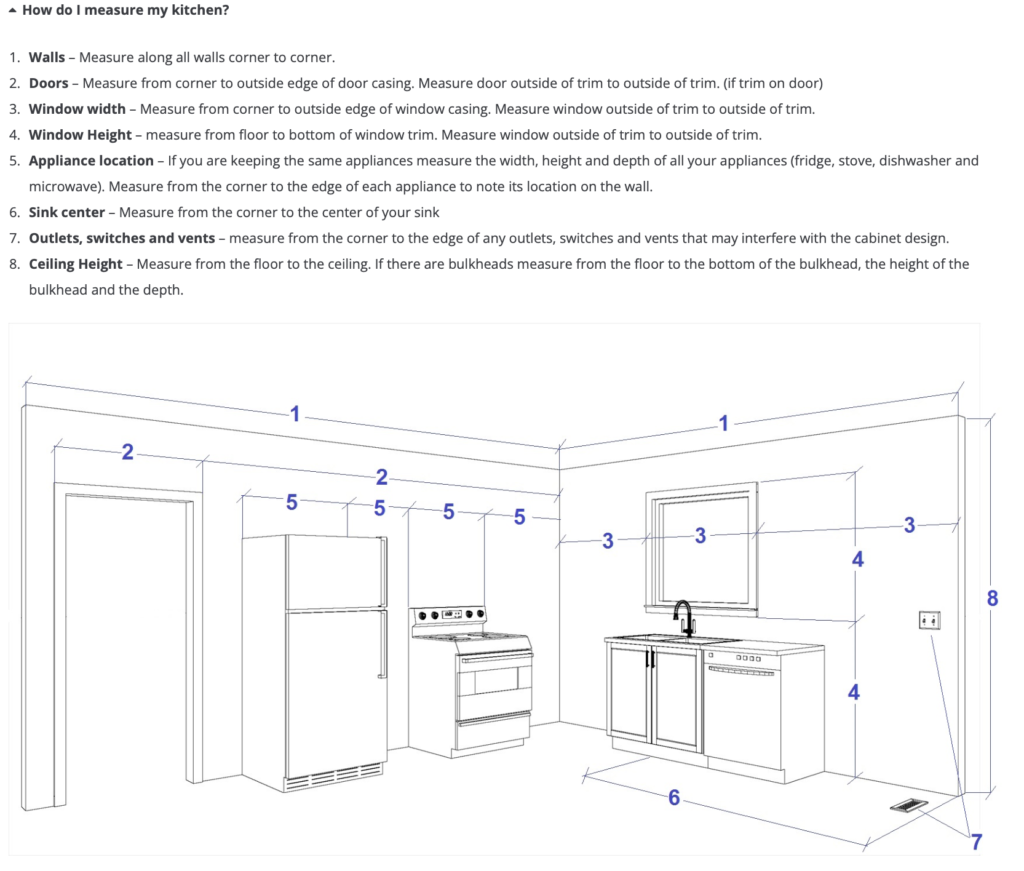 When it comes to a reno, we offer a truly unique and custom renovation system. You can choose from 3 different types of packages, – bronze , silver and gold –  and then we are able to customize those even further to suit your needs. Learn more about each package here.
When you're selecting appliances, put some thought into what features you find appealing, and requirements for your lifestyle. Take the time to visit appliance showrooms, because there is a ton of variety in all major appliances. New appliances must be factored in as part of your budget.
For the design… What's "in"? What's timeless?  At the end of the day, the stylistic element is up to you and your dreams and wishes for this living space. If you're looking for guidance, however, we are here to help. According to industry experts, these are the top 10 huge trends we will see in 2022.
Colourful cabinetry.
Resourcefulness – making the most of all areas of your kitchen.
Black accents and appliances.
Multiple islands.
Patterned floors.
Disappearing upper cabinets.
Kitchens that don't really look like kitchens.
Linear lighting.
Hidden storage
Source: https://www.thekitchn.com/
As always, crisp white kitchens remain popular. Green – in a variety of shades, depending on your desired space – also remains popular, as well as natural light and the elemental beauty of stone. Visit https://www.thekitchn.com/kitchen-design-trends-for-2022-23257641 or   www.housebeautiful.com/design-inspiration/g38210397/kitchen-trends-2022/  for detailed information and examples of what's in for 2022, and likely here to stay.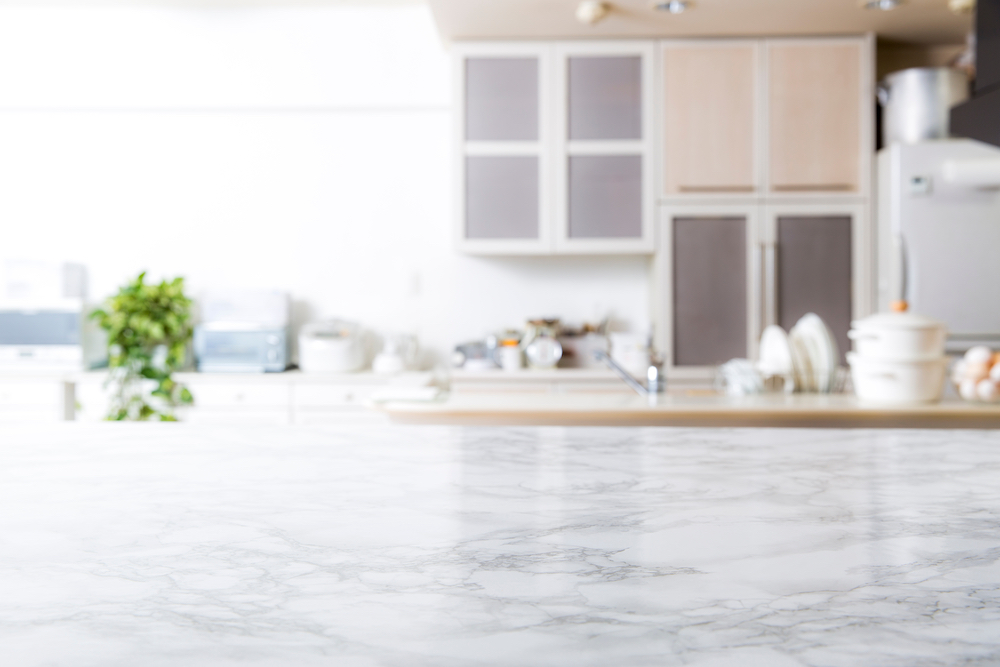 You have questions… We have answers!
What services do you offer? Whether it's a renovation, a new home or a commercial project, we can help bring your vision to life from start to finish. Please see our Portfolio of  past and current work to gain insight on what is possible for you.
What is the cost for a kitchen design? Hawthorne Kitchens' measure fee or a design fee is complimentary for the first design or quote. In some cases, where multiple design revisions are requested, a design retainer may be required. The retainer is then applied against the final cost of your renovation.Our design services are related directly to the cabinetry and related products that we sell for your renovation. As such, we do not make house calls for general design advice.
How do you construct your Custom Cabinets? There are many different methods on how to construct cabinetry. We took our inspiration from old fashioned furniture that stood the test of time, this was done by integrating blind dado construction mixed with good quality materials. It does not matter your budget or which door materials you choose, the quality of the cabinet construction remains the same. We wanted to find a way to have the quality of old fashioned furniture but for a reasonable cost so that everyone could enjoy the value. We have integrated CNC technology and many modern efficiencies with our classic custom woodworking to create the product we are so proud of, at a price that competes against mass produced box store cabinetry.
Do you sell countertops? Yes, we fabricate and sell a large selection of countertop materials. We supply and install quartz, stone, solid surface, and butcher block countertops. For contractors or do-it-yourself renovation enthusiasts, we also supply post form laminate countertops that you can install on your own.
We know you probably still have questions about the process and how we can bring your vision to life. Please feel free to give us a call – we'd be happy to help! Or, visit our FAQ page for a complete list of common questions we receive: www.hawthornekitchenskingston.com/faq/.
We hope this starting point was enough to clear the fog around the process, and inspires you to start planning your custom kitchen! When you're ready to discuss your project, just reach out to schedule a consultation, or visit our showroom.